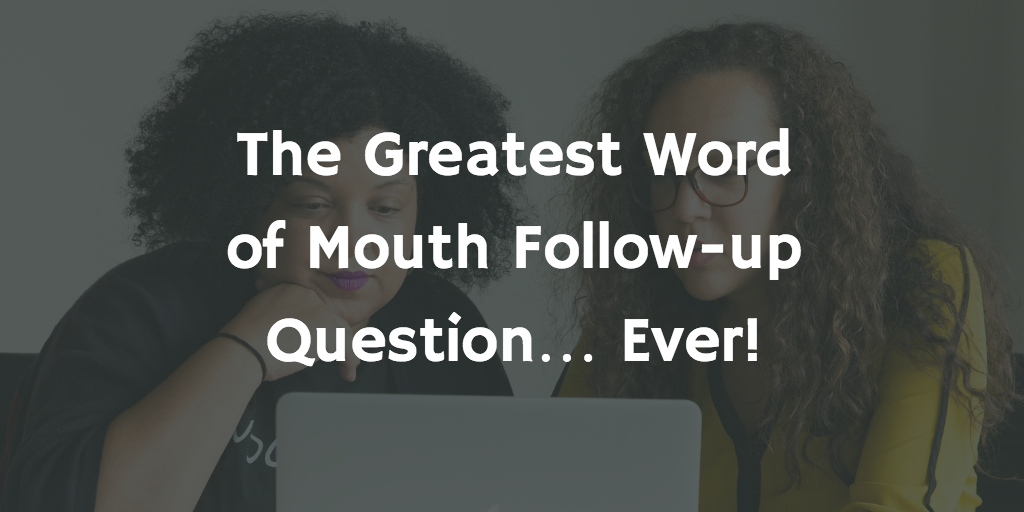 Companies – SaaS or otherwise – tell me all the time that Word of Mouth (WOM) is one of, if not the top, method for acquiring new users and customers.
While that's great, what can you really do with that information?
Here's an idea…
First though, I wrote an 11-minutes-to-read mega-post over on Medium called A Meditation on Word of Mouth Marketing and Growth Hacking that goes into a ton of interesting detail on how to orchestrate WOM. You should read it sometime.
This, however, is not a mega-post… it's a short post that details one thing, and one thing only…
THE GREATEST WORD OF MOUTH FOLLOW-UP QUESTION…. EVER!
Okay, here's how it plays out.
You: How'd you hear about us?
Them: A friend told me.
You: Awesome, I want to know who your friend is so I can send them a thank you gift, but first… what'd they tell you?
Now shut up and listen.
That's it.
WHAT'D THEY TELL YOU?
Or some version of that… make sure it works in the context of your conversation, use your own voice, etc.
Don't feel like talking to anyone? Well, I suppose you could include this as a free-form follow-up question if someone selects "A friend told me" as an answer to your "how did you hear about us?" question in your Qualaroo or Intercom (or whatever) workflow… it's something to try at least.
Though I suspect an IRL or even real-time chat conversation may yield better results.
Anyway…
So why is this the greatest follow-up question to someone telling you that they heard about you from a friend or colleague?
Simple… it's visibility into the secret, hidden world of your customers talking to each other.
You get to know the catalyst for them reaching out to you, signing up, etc.
It's the why. The real why.
Unless they go around doing everything their friend tells them about – which is just creepy/sad – they must have had a reason for taking action this time.
And it probably had something to do with what their friend said to them, how they said it, etc.
You need to know what that is.
Once you know how others talk about you, what they say, the words they use, the emotion behind it, etc. then you can start to use that in your marketing, sales copy, conversations, pitches, etc.
WHAT'D THEY TELL YOU?
WOM can be powerful… with four(ish) simple words you just unlocked that power!
Use it wisely.