Sales is part of Customer Success. Like it or not.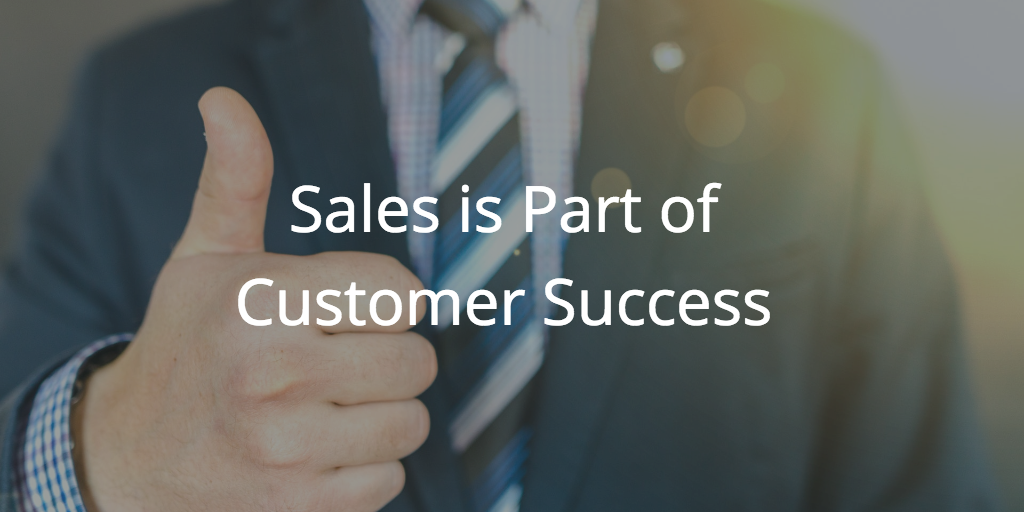 No, I don't mean the Sales organization should report to the Customer Success Management org.
I mean that Customer Success as an Operating Philosophy, as a way of doing business, includes sales. It includes marketing, product, support, etc, too.
It's critical to understand that Customer Success is not just about "post-sale."
Customer Success is when your customers achieve their Desired Outcome through their interactions with your company.
Those interactions start early – from the first marketing touchpoint, at the start of the sales cycle, on the first cold outreach email by your SDR – and they continue throughout the entire lifecycle of the customer.
Which means we need to be thinking about Customer Success when creating marketing campaigns, determining Ideal Customers, optimizing the sales cycle, etc.
In fact, let's talk about Sales.
Sales is important. Sales is critical.
But…
Sales to Offset Churn
In far too many companies, a huge portion of the short-term sales goals are set simply make up for the loss of revenue from churn.
Think about that for a minute.
We need to close $10M in new business this quarter… but $3M of that will simply replace what was lost last quarter, so we'll only be up $7M on all that effort and expense.
Yeah, we're up some.
But so much of that hustle.
So much of that closer coffee.
So much of it is there simply to offset churn.
How is that gong-worthy? How?
Growth is the Goal
Look, I just had an AMAZING meeting with the SALES leader of a company… it was AMAZING.
When possible, I work to engage the sales organization of a company.
It's not "us" vs. "them."
I'm not a "Customer Success" guy… I'm a Growth guy.
I want us all working in the same direction.
So I am not anti-sales by any stretch.
I'm 100% pro-sales.
Sell, Sell, Sell (One Caveat)
Please sell more.
Sell all you can.
Beat your quota by a mile (or 1.6km if that's how you roll).
Reach for the stars.
Whatever.
Just do it by selling to good-fit customers.
Sell to customers with Success Potential.
You can't solve upstream problems, down stream.
It's really very simple.
Don't Close Bad-fit Customers
Now, if eliminating bad-fit customers from your territory, target customers, pipeline, or whatever will not leave you with enough leads to work…
…then you need to rethink your business, prospecting, lead gen, ToFu strategy, etc., not try to close bad-fit customers.
Real, professional salespeople building their careers and early-retirements in sales (vs.short-term, desperate, gotta-hit-my-bs-numbers-or-get-fired salespeople who float through sales between other jobs), go into each sale with a goal of 100% referencability. (why? think about it)
You don't get that by closing bad-fit customers.