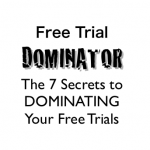 In addition to the years I've been working with SaaS & Web App vendors, I've spent 2011 totally immersed in the business of free and have helped dozens of companies – from super early startups to MASSIVE $B/year companies – completely DOMINATE their free trials.
Nothing else I've done has produced such AWESOME results – so fast – for so many SaaS & Web App and traditional software companies. Yep… turns out my stuff works for non-SaaS companies too!
So I figured it was time to share my findings with you in another one of my free webinars.
This time I covered…
The 7 Secrets to DOMINATING Your Free Trials
#1 Metrics S'metrics
#2 Sales Funnel Fallacy
#3 The Product Won't Sell Itself
#4 Freemium vs. Free Trials
#5 The Credit Card Wall
#6 The Perfect Free Trial Length
#7 No More Evaluations
I decided to post the video from the webinar so if you missed it live, or want to watch it again, just fill out the form below and you'll get INSTANT ACCESS to the ~65-minute video.
Thanks!