If you're in Sales, Account Management, Customer Success Management, or otherwise hold a revenue goal from existing customers, and don't just want to meet, but wish to EXCEED that goal in record time, the Customer Growth Intensive is for you.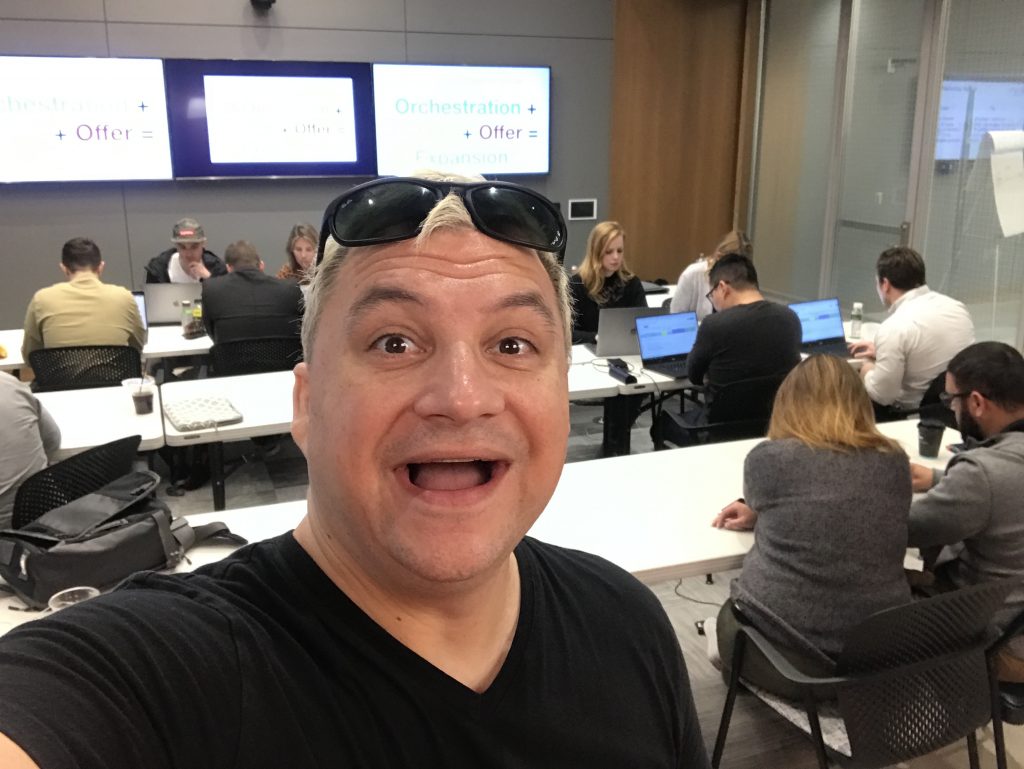 SUPER LIMITED… ONLY 5 COMPANIES (UP TO 5 PEOPLE PER COMPANY)
What goes into a plan designed to Increase Account Size, grow Average Contract Size, and drive Customer Lifetime Value to new highs in a sustainable, long-term way? It's time to find out.
This Intensive is NOT a lecture, but an immersive, intense working session that will produce results immediately, and for years to come.
You will leave this Intensive with:
A detailed Customer Growth plan designed to maximize value FROM your customer by maximizing value FOR your customer.
The tools, knowledge, and mindset necessary to adapt to the evolution of your customers, market, product/service offering, etc. to ensure that growth plan has a real chance of succeeding.
A follow-up consulting session scheduled w/ Lincoln
During this intensive, Lincoln will teach you to:
Understand the concepts behind Lincoln's Exponential Growth Formula: Orchestration + T.I.M.E. + Offer
Uncover Triggers, Interactions, Milestones, and Events (T.I.M.E.) that open up logical Expansion Opportunities
Create and make expansion offers based on those T.I.M.E. elements
Map expansion offers to appropriate T.I.M.E. elements from your customer's POV
Brainstorm with other attendees on ideas to better engage and expand your customers
Tap into Lincoln's experience and expertise to take your customer expansion plan to the next level
Present your learnings and engagement plan design hypothesis to the group for feedback and directional guidance
All attendees receive:
Extensive Pre-Work to complete before attending the Intensive so you can hit the ground running (the same pre-work Lincoln's consulting clients get). This includes everything from Ideal Customer Profile to Success Milestones & Joint Accountability worksheets.
Catered lunch and coffee throughout the day
A 1-hour follow-up consulting call with Lincoln to ensure you're on the right track
If you're looking for incremental growth in the value of your accounts, this is NOT for you.
But if you're looking for Exponential Growth in account value, this is definitely for you.
Intensive Workshop Agenda
Upon sign-up: Pre-Work is Delivered
To ensure you hit the ground running for our full-day Intensive, you will have several pre-work assignments to complete as a team.
08:30 – 09:00: Arrive & Coffee
Just show up… the coffee will be ready for you.
09:00 – 09:30: What's on your mind?
To start the day, we'll have you list your concerns or questions that you're bringing into the Intensive to ensure we hit the target for all attendees.
09:30 – 11:00: Fundamentals of Exponential Expansion
We'll lay out the difference between Sales and Expansion, talk about goals and measurement, comp plans, etc. to lay the foundation for Exponential Expansion. This is the only part that is mostly lecture.
11:00 – 12:30: Introducing the Exponential Growth Formula
You'll learn THE formula: Orchestration + T.I.M.E. + Offer and begin to work through each part of it and apply it to your unique relationship with your customers.
12:30 – 14:00: Orchestration Method
(Includes a catered, working lunch)
You'll learn the secret to the Effortless Upsell™ and how you can easily move your customers along a defined Ascension Path. Then you'll define that Ascension Path and start building an Orchestration Model for your customers.
14:00 – 15:30: Acceleration Method
You'll learn how to short-circuit the customer's Ascension Path by preparing them for Expansion sooner through logical offers for non-core offerings. This will be a very creative process, but you'll come up with a plan to help your customer be more successful, faster, and therefore expand their relationship with you sooner.
15:30 – 16:30: Downsell Method
You'll learn that sometimes the best way to expansion is a little give and take. Building off of the previous work, you'll figure out if and where to apply this method and incorporate it into your growth plan.
16:30 – 17:00: Recap and Q&A
Quick recap of the day followed by Q&A to ensure all questions that you came in with are answered (but you'll leave with a lot of new questions… and that's by design!)
17:00 – Dismissed
You don't have to go home, but you can't stay here
1 Month Later – Consulting Call w/ Lincoln
You have a follow-up consulting call with Lincoln to make sure you're on the right path
Upcoming Intensive Dates & Locations
January 14, 2020 – San Diego, California
What's it Cost?
US$7,500 per company, up to 5 people per company can attend. We recommend a C-level representative and leaders from Sales, Marketing, Customer Success, and Product be present.
Interested in Attending?
Schedule a call with Lincoln to see if this Intensive is a good fit for you.
Answers to FAQs
Yes, you get an hour of follow-up consulting with Lincoln to be used at your discretion ($500 value).
No, we won't allow directly competitive companies to attend. Once you confirm, if a company that seems even remotely competitive wants in, we'll run it past you first.
No, we can't make extra room if it sells out. We have to keep these small so we can really help each company that attends.
No, it won't be streamed or recorded… these are private, safe spaces where actual work is done.
Yes, you can bring more than 5 people (assuming we have space) from your company. The cost is $2500 per person.
No, results aren't guaranteed. We do, however, 100% guarantee you'll get what you need to see results if you take action on what you learn and complete during the Intensive… but you have to do the work. And we can't guarantee you'll do that.
BUT… if I don't think you'll actually do the work based on our initial conversation, we won't let you sign-up. We usually turn away 3x as many companies as we accept because didn't think they were a good fit (mostly based on their current mindset) right now.
Yes, we will offer refunds if Lincoln fails to show up. However, if someone from your company fails to show up, that's on you. Find someone else to take their spot. Why no refunds? You took a spot from another company that would have showed up.