Only read this if you'd like to accelerate the growth of your SaaS business.
What if you had access to the growth strategies used by top SaaS companies around the world AND you had help leveraging them to scale your business? Now you do!
ONLY  3 2 1 0 SPOTS AVAILABLE!
To grow your SaaS company fast and profitably, you need to ensure your Pricing Strategy, Revenue Model, Marketing Strategy, Free Trial, and Engagement processes are optimized.
To do that, you need real, clear, actionable advice and guidance in those areas that's specific to your goals, your market, your customers, and your product.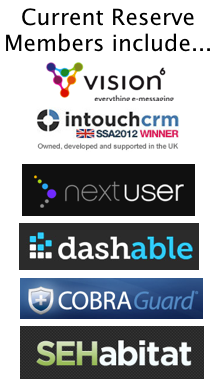 You need access to advice and feedback right when you need it, someone to keep you accountable and to make sure you're heading in the right direction.
You need someone you trust – but that's outside your company – with whom you can bounce ideas around and brainstorm with.
Above all, you need someone you can turn to that has worked with 100's of SaaS companies around the world and knows what's working and what's NOT working right now across multiple SaaS product categories, market positions, sales process types, and stages of maturity.
From Startups and Enterprise Software Companies on a path to SaaS, to low-touch, self-service SaaS companies transitioning to Enterprise Sales and top pure-play SaaS companies looking to accelerate growth, reduce churn, and increase margins… I've helped 'em all!
And now I want to help you.
Ready to get started? Sign-up here or read on to learn more.
These Results Aren't Typical… unless you work with me
The SaaS companies I work with often see results like:
Average Sales Price (ASP) / Annual Contract Value (ACV) goes up
Customer Lifetime Value (LTV) goes up
Customer Acquisition Costs (CAC) go down
Customer Churn goes down
Dollar Revenue Retention (DRR) goes up
Company valuation goes up
But those are generic… how about some real examples?
Well, as I'm writing this I got an email from the CEO of GetResponse that said "The new cancellation process that you recommended made a big time change for us. Cancellations have indeed dropped considerably."
Other successes off the top of my head are…
AES Education now generates 150 6-figure leads per month! That's up from… zero.
Kajabi increased sign-ups 600% in just one month after working with me
Project Bubble increased free-to-paid conversions 240% in 30 days using my suggestions
WORKEtc. raised prices 300% without a drop-off in sign-ups
Cazoomi got a 100% increase in sign-ups
Stormpulse pivoted away from Freemium, increased prices 4000% and are absolutely killing it.
TradeGecko increased free-to-paid conversions 450% and doubled their customers in 30 days after spending 1 hour with me!
Wait… is what I said about TradeGecko a typo? Nope. We worked together only 1 hour. Just 60 business-changing minutes!
Ready for results like these? Sign-up here or read on to learn more.
But it's not just the tangible results that count, right?
Intangible Results = Immeasurable Value
Having worked with the leaders of 100's of SaaS companies over the years – from big to small, from startups to established companies – I know you often feel alone.
Even if you're surrounded by your team, your board, your friends, and your peers… you still need someone you trust – but that is outside of your company – with whom you can bounce ideas around and brainstorm with… someone who can help you achieve clarity and certainty, and be confident in your decisions.
You need access to advice and feedback right when you need it from someone that you trust will give you a straight answer, that has no political reason to tell you what they think you want to hear and who will ask you the tough questions, push back on assumptions, and generally keep you accountable and to make sure you're heading in the right direction
And that's why I created the Reserve Membership program.
Ready to get started? Sign-up here or read on to learn more.
ONLY 3 2 1 0 SPOTS AVAILABLE!
Reserve Membership has it's Privileges
My clients – including Reserve Members – get access to my ever-evolving knowledge of Internet Marketing, Subscription Business Models, Behavior Targeting, Value Pricing, and Customer Experience best practices.
And when you tap into my constant learning on those subjects  and my deep knowledge of the Principles of Persuasion & Customer Psychology, tightly integrate that with data and metric-driven decision making, and wrap that in the SaaS Business Architecture (which I basically defined many years ago and continue to evolve) and then take real, dedicated action…
…there isn't any way you won't make massive progress!
As a Reserve Member, I can help you:
Identify your Ideal Customer(s) and the buyer personas for each type of customer
Create a plan to reach and attract your ideal customers to their website
Setup a program to nurture and indoctrinate your potential customers to stay top of mind
Design or optimize your sign-up, Free Trial, and customer on-boarding process to drive engagement
Create an environment where conversion from trial to paying customer is the most logical decision
Use Customer Success Mapping to drive continual value realization of value for long-term customer retention
Implement methodologies and technologies to measure, manage, and improve the results of everything above
The great thing about being a Reserve Member is that…
You get the help you need right when you need it
If you'd like to take advantage of a new opportunity, if M&A or other activity is disrupting the market and you need to pounce on it, or you'd like to exploit a current event, you need help now… not later or at the next board meeting.
Rather than struggling with how to do something, we can work together to explore it right when you need the help.
If you're working on your business plan and need a second set of eyes, if you have investors breathing down your neck, or if you're just sick and tired of waiting around to take action, you'll love having me there for you right when you need me.
As a Reserve Member,…
You get up to two hours of dedicated, private consulting time with me every month
Wait… "is two hours enough?" you might be thinking.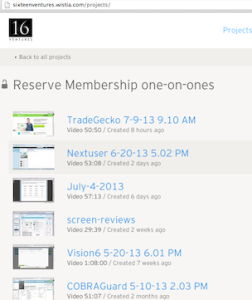 Well, like I said above… TradeGecko increased free-to-paid conversions 450% and doubled their business in just 30 days after spending only 1 hour with me!
So yeah, we can do a lot in "just" 2 hours.
This isn't about quantity… it's about QUALITY.
I work fast, I talk fast, and I can help you achieve SIGNIFICANT results… fast.
Just like clients that pay me $10,000 for a full-day of consulting, when we're meeting, you get my full, undivided attention and full resources.
We'll take our time together to work through your issues, opportunities, etc. and we'll determine what strategies & tactics to employ to reach your goals, take advantage of those opportunities, or solve the issues you're dealing with.
And of course, you can send over anything I need to look at prior to the meeting so our time together will be as productive as possible.
All of our meetings are done remotely via GoToMeeting and I record, upload and privately share the sessions via Wistia with you whenever possible.
Your time can be used as a single 2-hour call or up to 4 x 30-minute calls; that's up to you, but be aware… your hours don't rollover each month, okay? Use 'em or lose 'em!
I realize sometimes you don't need a meeting… just some quick feedback… which is why…
You get UNLIMITED email access to me
I put my Reserve Members on my VIP list on my iPhone!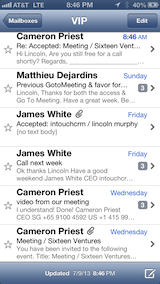 At any given moment you'll need an outside set of eyes – ideally with a good amount of expertise and experience behind them – to review your progress, designs, and process flows to ensure you're heading in the right direction.
As a Reserve Member, you get on my VIP list and I'll respond to your email within 8-business-hours (during Central US business hours)… though I always reply quicker than that; I just like to have an outside limit.
Now, you read that right… you get Unlimited access to me via email.
You won't find an asterisk or fine print here.
I know you're a busy professional and since this program is limited to one point of contact in your company – you – it's a given that you won't abuse this relationship.
And the last thing I want to do is limit your access to me – and limit the value you receive from being a Reserve Member!
Now, I might respond to you with a request to jump on a call rather than a full response via email, but that's fine… anything under 15 minutes won't count against your monthly 2 hours.
So sign-up here and let's take your SaaS business to the next level!
But wait… I have to be honest, not everyone is a fit for this program. In fact, there are several…
Reasons a Reserve Membership is NOT for you
Look, it doesn't matter if your company is a startup or an established business, whether you're a single-founder or the CEO of a thriving and growing organization, a Reserve Membership will help you.
In my experience, the main reasons why a Reserve Membership is probably not for you have more to do with mindset and attitude than anything else.
Some reasons why this isn't for you are:
You are looking for someone to simply endorse your ideas and pat you on the back. If that's you, don't sign-up… this isn't for you. Only sign-up if you want someone to ask you the hard questions to help you move forward.
You aren't an action taker. If you just want to join something to join something, find another program to be a member of… I don't want to work with you and I won't take your money.
You don't have a goal. This should be obvious… How can I help you get to where you're going if you don't even know where you want to go?
You already know everything! I don't like know it alls (I'm certainly not one myself… I'm always learning, every day, including from the  SaaS companies I work with and have visibility into). Besides, if you know it all, why would you join something like this?
Okay, clearly the Reserve Membership IS for you, so sign-up here and you'll also get…
Awesome Bonuses!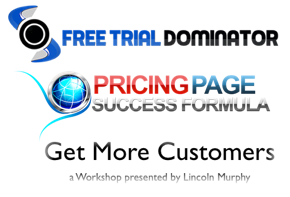 To ensure the time we spend together is as valuable as possible by raising your baseline understanding around Customer Acquisition, Pricing, etc. I'm going to give you access to all of my best training material.
That's right, as a Reserve Member, you'll get full access to these amazing programs that have literally transformed the businesses of hundreds of SaaS providers around the world:
The "Get More Customers" Workshop video + resources (the one I just did in June 2013)

This 3-hour video will show you EXACTLY how to get paying customers right now
The resources include 6 awesome reports  like "The Dark Art of Buying Customer Data" and "Email Pre-Targeting"

The complete Free Trial Dominator series
The entire Pricing Page Success Formula video series
And other awesome surprises that I'll share with you along the way.
Okay, so…
Are You Ready to Take Action? Sign-up Now.
ONLY 3 2 1 0 SPOTS AVAILABLE!!!
To ensure you get the maximum value from your Reserve Membership, I need a minimum 3-month commitment from you… but don't worry, I've set it up so you can cancel anytime.
The commitment I'm looking for from you isn't contractual… it's actual!
These are PayPal links:
Pay just $2,700 for 3-Months at a time (A $3,000 value, less a 10% Professional Discount!)
Pay only $1,000 per month
Once you sign-up and pay, I'll get you setup with the bonuses and you can start sending me questions or we can schedule our first remote call.
I'm excited to help you reach your goals!
– Lincoln