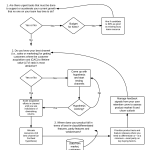 I have a confession… Sixteen Ventures – the best little SaaS Growth consulting shop in all the land – is just me… and I have a time management problem!
I do everything… from writing blog posts to writing proposals and from interacting on Social Networks to Networking at Industry Events.
One day I'm working with a startup in Poland via GoToMeeting on accelerating early-stage growth, the next day I'm on a plane to Atlanta to help accelerate the growth of a struggling $10M/year SaaS company with major organizational issues.
All of that to say… I've been thinking a lot about "time" lately. I suffer from scarcity on several levels, but time scarcity is probably my biggest enemy… probably yours, too.
We all feel like we need to be busy all the time or we aren't working… we aren't hustling.
Yes, work and hustle are important, but not to the detriment of everything else… including the progress we claim to be "hustling" for.
As has been said a million times by a thousand experts, busy isn't bad as long as what you're busy doing is moving you forward (and even then you should take time to just think… to contemplate… to meditate).
But most of us spend far too much time on things that – while the outcome might move us forward – the doing of the things is actually a big waste of time… which is why outsourcing, Virtual Assistants, Fiverr, etc. are so popular right now.
And so is automation.
In fact, way back in mid-2013, I got an email asking if I'd heard of this cool new service called Buzzfork that helps you increase engagement – as well as followers – on Twitter… while you do other stuff.
I was intrigued since Twitter is  where I spend most of my time when it comes to social networks and promoting my content (and business)… but I often feel like I spend too much time doing that… this was the answer!
As soon as I learned about Buzzfork, I also learned about – and met – Chris Bolman, the founder of the company.
Now, Chris and I have talked a lot about Growth Hacking, startups, etc., since then, but the thing that originally connected us was time.
So I asked Chris to put some thoughts together around Being Successful while effectively managing your Time – the only truly finite resource we have –  and he was kind enough to do just that.
I'll add a couple of  thoughts in the Afterward, but for now, I'll turn it over to Chris…